Perfect for 13"-14" laptops
Size: 12.4" x 8.6" x 0.5"
Weight: 1.8lbs
Color: Gunmetal Grey
Material: PC ABS Plastic
*Buy 2 to unlock triple-screen experience.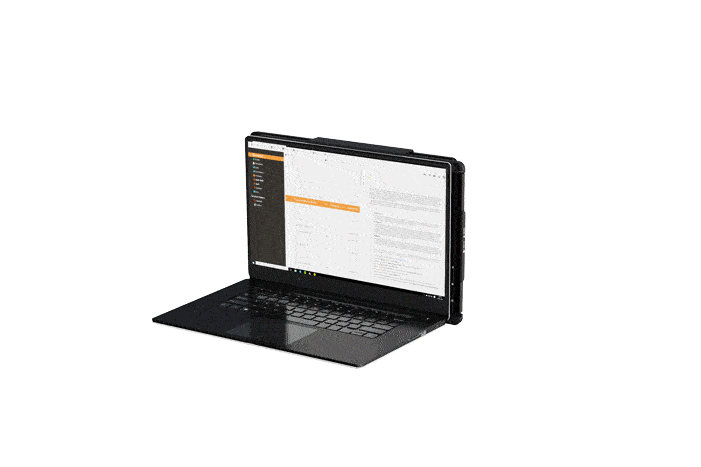 Perfect for 15"-17" laptops
Size: 14.1" x 9.5" x 0.5"
Weight: 2.0lbs
Color: Metallic Black
Material: PC ABS Plastic
*Buy 2 to unlock triple-screen experience.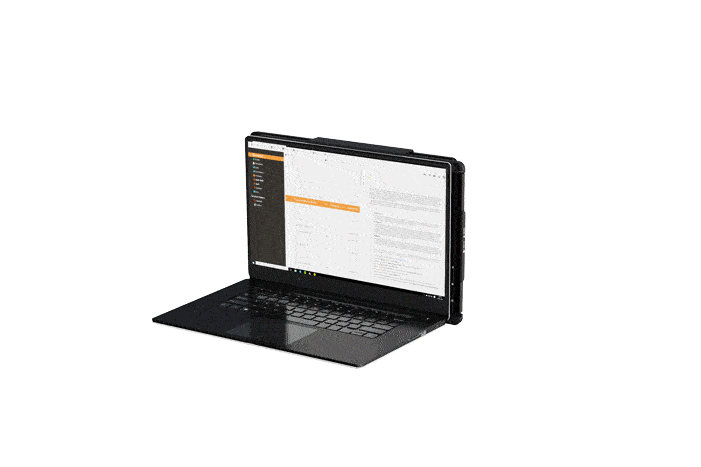 Extend your screen symmetrically.
Two Together for the Perfect Pair.

Mobile Pixels TRIO and TRIO Max feature four modes,
ideal for ergonomic comfort and screen sharing.
Clip two TRIOs together for a triple screen viewing experience. The possibilities are endless.

For workspace spanning, dragging windows from one screen to another.

Duplicate your desktop for easier sharing.
For webpage navigation, scrolling on vertically oriented applications.


Two Together for the



Perfect Pair
Bond two TRIOs together with clips.

Snap into the back of the laptop.
(Clips and metal plates are included in the box.)

Portable Screen for Gaming
TRIO series can work with Nintendo Switch and Android mobile phones with no dock.
Plug and play. Gaming on bigger screen all the way.

Designed with the compatibility in mind.
Works with all computer operating systems, including Microsoft Windows, macOS, NINTENDO Switch and Dex.
Interchangeable,
2-in-1 USB Cable.
With USB-A, USB-C connector built-in, this is the only cable you will ever need.


1. TRIO Monitor(x1) 2. 2-in-1 USB Type-C to USB-A (C) Cable 3ft. (x1)
3. Metal Plates (x12) for 3 laptops 4. TRIO Clip (x1) 5. User Guide (x1)
2-in-1 USB Type-C to USB-A (C) Cable 3ft. (x1)

Metal Plates (x12) for 3 laptops
Microsoft Windows
Mac OS
Chrome OS
Linux
Android Smartphone
Android Tablet
Nintendo Switch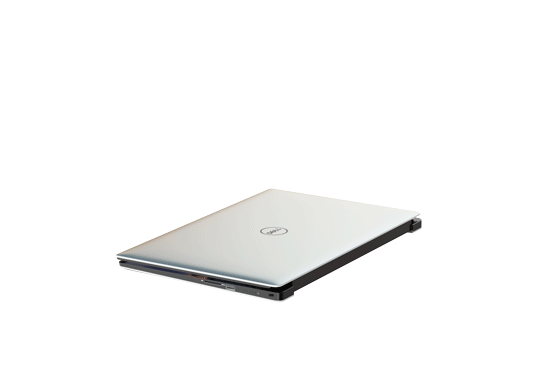 1. Place magnetic adhesive on your laptop.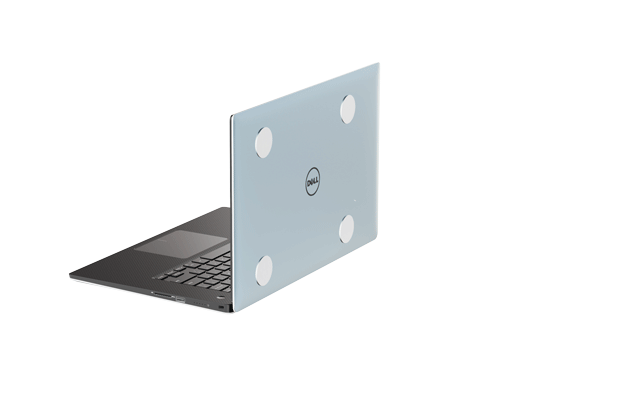 2. Place TRIO on the magnetic adhesives.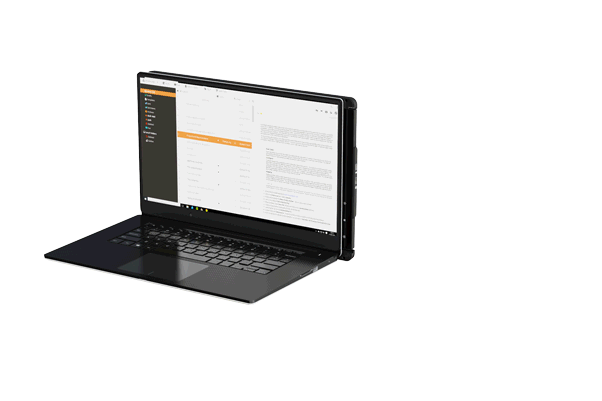 3. Slide TRIO's screen out and plug in USB.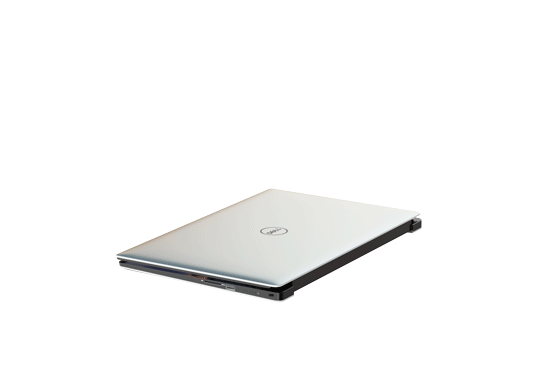 1. Place magnetic adhesive on your laptop.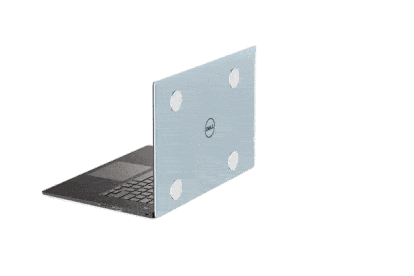 2. Attach two TRIO (Max) using the clip system. Snap into the back of your laptop.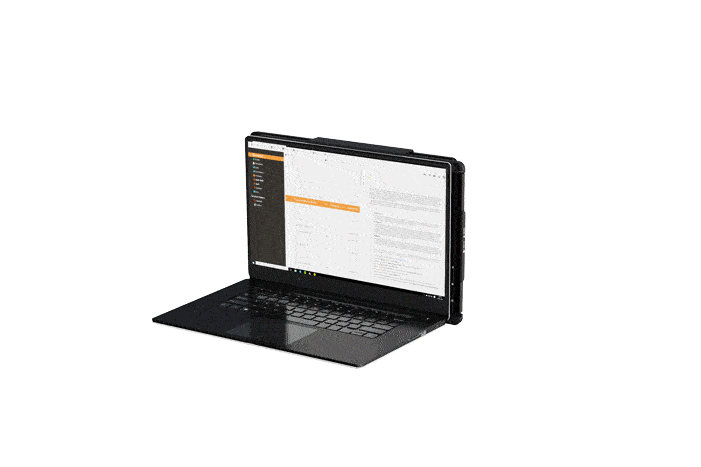 3. Slide out both the left and right screens
Plug each into single USB slot.
Can Mobile Pixels Inc TRIO work with MacOS or PC?
YES! Mobile Pixels Inc TRIO can work with Mac OS, Windows, Linux and Chrome!
My TRIO is mirroring my laptop screen, how can I change this? (Windows Users)
Right click on your desktop while TRIO is connected and choose "Display Setting". Click on the "Duplicate these displays" drop down box. When the dropdown box is opened, choose "Extend these displays". Then click "Apply". Now you are in Extend Mode.
My TRIO is mirroring my laptop screen, how can I change this? (MacOS Users)
Plug your monitor, go to "System Preferences- Display-Arrangement", uncheck the "Mirror Displays" box. For Catalina user using USB A port, if you want to use your screen on the left side, please download the driver but not DisplayLink Manager App.
I connect my TRIO Max, the screen doesn't turn on but says "please wait"
Please make sure that the USB cable connect to the correct USB port on the TRIO Max. Make sure it is connected to the port with a FILLED IN CIRCLE not the port with the POWER PLUG.
If I want TRIO Max on my left side but my display is upside down, what should I do?
Please go to display settings and select "landscape flipped" under display orientation.
If you are a Catalina user using the USB A port, please download the newest DisplayLink driver, but not the DisplayLink Manager App.
Is this compatible with the upgraded DUEX Pro?
It will work with the Duex Pro, but you cannot mount them together. The kickstand will be required.
What operating systems is TRIO Max compatible with?
TRIO and TRIO MAX are compatible with Windows, Mac, Linux, Chrome,Android and Nintendo Switch.
No, it is display monitor when you mount it to the laptop so that touch screen is not necessity whereas it would increase the cost.
How many TRIO Max's do I need for three screens?
You would need to buy 2 Trio Maxs. It will come with the clip mechanism that allows you to clip two TRIO MAXs together for a total of THREE screens.
What cable specs are required to run the monitors at its full capabilities? I want to purchase two retractable USB-C to USB-A 2.0 cables so that there
You need USB 3.1 spec cables.
My laptop is Microsoft Surface which only has 1 USB port, I ordered 2 TRIO Max screens, what should I do?
You will need to use a powered USB hub to power 2 screens.
Get help on installing our devices, learn about device technical specifications and get answers to frequently asked questions.

Buy 2 TRIOs
to unlock 3-screen experience.